So, you guys.
Canada.
I know I make a ton of AMERICA jokes and all, and I really do love my country and all, but in all seriousness, Canada is a great nation as well. I've had an amazing time here so far.
…Even if they really do have those bizarre things they think are Smarties.
……Because they also have Kinder Surprise Eggs. Yup. You heard me right. KINDER. SURPRISE. EGGS.
I know, right?? You should've seen my face when I saw this baby in the store. I couldn't pass up an opportunity like that.
…But now I can't eat it. Because if I eat it, then I won't have it anymore! I don't know what to do, guys. It's a pretty big dilemma.
In the meantime, though, I'm in Quebec City, like I mentioned earlier. And I'm staying here:
…No, but actually though. It's gorgeous at night, too.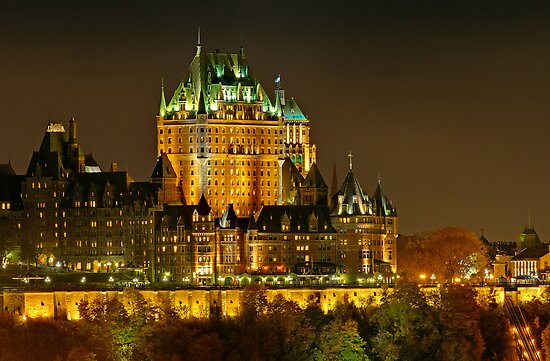 I feel like such a princess staying here. It's amazing. We're only here because my mother was looking into it, and she found an incredible promotional discount, otherwise we never would have been able to afford it. But… I mean, you should've seen my face when we came into the courtyard, and I realized that this is where we were staying. I actually couldn't believe it. Our hotel rooms are like regular hotel rooms, but the rest of the hotel, and the views right outside are spectacular.
In fact, the whole of Quebec City is gorgeous. It's like being on a movie set all of the time. The only thing I'll say against it is that there isn't a ton to do here. After a long weekend, you can have exhausted all of the things to see, and then… I mean, the shopping is pretty nice, but it's not a big metropolitan area like Montreal was or anything. It's still exquisite, though.
Also, creeeeeeeeeeeepes. I love crepes. I love French food. And damn, am I ever in the right place for that. If you're a foodie, then the French-Canadian cities are a place that you should visit. I mean, they probably don't even compare to France itself, but they're still pretty awesome.
…Right, at this point it's past one in the morning, and I have to get up at eight. I should go to sleep and all. But guys… everything is so beautiful here. I wish I could just take everyone I care about here for a weekend and just be here with you all, all at once. It's so magical.
Finally, since I'm signing off here, this really does begin my internet blackout for two days. Not as bad as I initially thought it was going to be, but… I won't get to come back online until Saturday evening. I'll talk to you guys then, and until then… I love you all! And if you have anything you really, desperately need to say to me… well, message me, and I'll get back to you as soon as I can. I really will be totally out of contact. It'll be interesting. Fun times abound!
Canada, let's do this thing!